Dave has been a background extra on the TV shows "Resurrection" and "Tyler Perry's The Haves and Have Nots" (pictures shown) and the film "Blended" (starring Adam Sandler and Drew Barrymore).
Dave has a credit on IMDb, as Dave A. Kelly, for an independent film, "Our Last Night".  http://goo.gl/kAgWMm
Dave carried the Olympic torch as part of the 1996 Atlanta Olympic Torch Relay.  He was selected based on his dedication to and involvement in community service.
Dave hopes to use his vocal talents, character voices, and acting ability as a Voice Over Artist. Here is his demo
Dave was a state champion story teller, musician, and singer as a high school student in Wisconsin.
Dave tied for the most athletic letters – eight – in his high school graduating class (three in Cross County, three in Track, and two in Basketball) and also received three activities letters.
He is the author of a children's story, "George, the Drobble".  https://goo.gl/qFqzlY
Dave twice participated as a stand-up comedian to invitation-only auditions in Memphis and Indianapolis for the original "Star Search" program hosted by Ed McMahon.
Dave was Chair of the Committee on Committees for the Oshkosh Student Association (student government).  

Dave worked as a professional server in pubs, restaurants, and a country club for fifteen years.
Dave began his career in the mortgage business as a bill collector.
The "Gonzo" in Dave "Gonzo" Kelly and "gonzospeaks.com" refers to a 1978 Ted Nugent album "Double Live Gonzo".
Dave has an incredible brain for numbers and can add, subtract, multiply, and divide quickly in his head.
Dave holds a trademark for his signature community service leadership development program, "Building Leaders Through Service®".
Dave and his wife Dia met at a Georgia Kiwanis training conference.
Dave's family has worn six Kiwanis Family Lt. Governor pins: Dave for 1978-79 Wisconsin-Upper Michigan Key Club Division Three, 1979-80 Wisconsin-Upper Michigan Circle K Lakes Division, and 1994-95 Georgia Kiwanis Division One; his sister Laura for 1982-83 Wisconsin-Upper Michigan Key Club Division Three; wife Dia for 2004-05 Georgia Kiwanis Division One; and daughter Amanda, 2005-06 Georgia Key Club Division One.
Dave has appeared in theatrical productions of "Godspell", "California Suite", "A Community of Wayward Saints", "You're A Good Man Charlie Brown", "The Madwoman of Chaillot", "Bye, Bye Birdie", and "L'il Abner".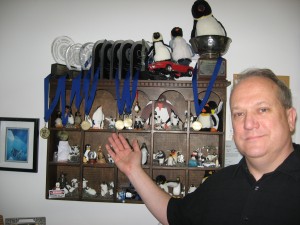 Dave's total of nine Distinguished District Administrator Awards is the most in the history of Circle K International, as is his string of nine consecutive such awards.
Dave's combined total of 16 Distinguished Administrator and Distinguished District Awards is also the most in the history of Circle K International.
Dave has visited 47 different American states, two Canadian provinces, and 12 different countries.
In his lifetime, Dave has heard over 1,000 different speakers and has spoken before more than 100,000 people.
Dave received a music scholarship from his high school to study theatre.
Dave was a trumpet and French horn player in high school.

Dave received a standing ovation in high school for his solo performance during a swing choir presentation of Steve Martin's "King Tut".
Dave has twice appeared on the Muscular Dystrophy Association national telethon with Jerry Lewis. [See video of his second appearance with Jerry!]
Dave was a regular contributor to Atlanta radio station WGST 640 AM's Kim Peterson Show, as "Kimnac, the Magnificent".
Dave has performed stand-up comedy on local Atlanta television.
Dave served on the leadership team for the men's ministry, "Men of Mount Pisgah"at his church and helped create and lead a program called "Monday Night for Men".
Dave grew up living in a 14′ x 70′ trailer in a mobile home park on an interstate highway outside of Fond du Lac, Wisconsin.
Dave wrote the dedication poem ("Dreams") for his high school yearbook. Download "Dreams" (PDF format)