Running Better Organizations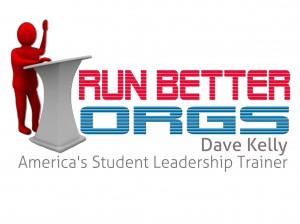 Dave is an experienced student leader and advisor on the campus, state, and national levels.  He served both in student government for four years while in college and also as the International President of a collegiate service organization, Circle K International.  He was a professional staff lobbyist for a state student government association and served as a state level advisor for 18 years of the Georgia District of Circle K International.
Put together your own agenda for your Campus Organization Leadership Training program, two hours, a half-day, full-day, or over several days! Booking Dave will not break the bank – check out his Affordable Pricing Model for a quote! Click on his calendar to find a date for your school!
Here are the titles of Dave's programs and sessions; click on "more about this program" for descriptions of each, along with Learning Outcomes: