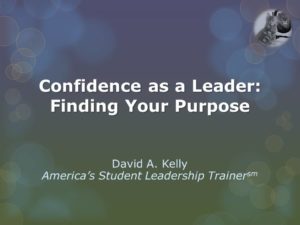 Learning Outcomes: EMPLOY confidence-building techniques to ENVISION, WRITE, IMPLEMENT a game plan for personal growth and success. AFFIRM the path that you want to take to REALIZE your dreams and goals.
Leadership Solutions: In an increasingly busy world it can be hard for students to feel confident in themselves or their leadership abilities. Finding their purpose will put them on the path to greater confidence!
One of the most important attributes employers look for in a potential employee, people look for in a mate, and organizations need in leaders is confidence! This session approaches the topic with the idea that everyone has leadership abilities and developing them confidently will serve your students now and in the future. Great as a keynote, workshop, or part of a larger officer training or leadership conference.
Booking Dave will not break the bank – check out his Affordable Pricing Model for a quote! Click on his calendar to find a date for your school!